2015 Rising Star Award Recipient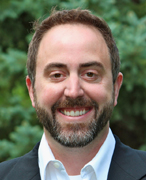 Brandon Bernier
Director of User Services
University of Wisconsin–Madison
For the development of innovative service models; for collaborative leadership in establishing professional development opportunities; for cultivating effective teams and partnerships to advance technology and impact in higher education
Brandon Bernier, director of user services for the Division of Information Technology (DoIT) at the University of Wisconsin–Madison, is recognized with the 2015 EDUCAUSE Rising Star Award for his demonstrated excellence in developing innovative models that focus on delivering exceptional customer service and for leadership in building partnerships throughout the institution in support of the university's academic and research mission.
In his current role, Brandon is co-creator of ServiceU, a successful four-semester professional development program employing training, project work, coaching, and learning networks, all aimed at cultivating customer service skills within the division. He co-founded the annual campus Information & Technology Leadership Conference, which is growing in size and scope and provides continuing education to all levels of IT professionals on the UW-Madison campus. He has also co-developed targeted projects with key campus partners to cultivate campus collaboration and advance strategic initiatives, such as Women in IT. Additionally, he has led numerous initiatives that have provided better experiences for faculty, students, and staff, including the full-time and student staff within his department.
Brandon began his IT career in 2002 at Oakland University, where, as a technology specialist for the Department of University Housing, he coordinated the first wireless network support for the university's residence hall and student apartments. Advancing to a senior technology position within the Division of Student Affairs, he founded and directed the Student Technology Center—a major initiative that served as the headquarters for the instruction and support of technology literacy—and also implemented multiple cross-divisional strategic technology plans to emphasize organizational goals and improve fiscal effectiveness in several core areas. When he was promoted to assistant dean of the Oakland University libraries, he excelled by leading the effort to transform the library's information commons service model from a passive computer lab to a vibrant technology learning environment designed to support student academics. For his focus on improving the student experience at Oakland University, Brandon was recognized with the Student Organization Advisor of the Year Award. Brandon has participated in many EDUCAUSE conferences and events, including speaking at several EDUCAUSE conferences and presenting at the EDUCAUSE 2014 Virtual Annual Conference. He presented "Building Stronger Customer Relationships Through Data" at the CIC CIO TechForum and "Inspiring the Next Generation of Leaders" at the inaugural TEDx Oakland University event held in March 2014. During his tenure at Oakland University, he was a contributing faculty member in the School of Business.
Brandon is consistently noted for his positive attitude, persistence, and energy—along with his ability to create environments and teams that bring about broad and effective changes throughout an organization and at all levels, whether departmental, divisional, system-wide, or national. He exemplifies the many qualities of professionalism and leadership fitting for a rising star in our association and the higher education IT community.
This EDUCAUSE Award is sponsored by Moran Technology Consulting, Gold Partner.