2017 Rising Star Award Recipient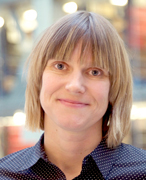 Liv Gjestvang
Associate Vice President, Learning Technology, Office of Distance Education and eLearning, The Ohio State University
For exemplary achievement implementing digital technologies in support of the teaching and learning process; for commitment to growing the profession and promoting issues of diversity and inclusion; for cultivating an environment of collaboration, motivation, and collective success
The 2017 EDUCAUSE Rising Star Award is presented to Liv Gjestvang, associate vice president in the Office of Distance Education and eLearning at the Ohio State University, for her exemplary leadership and achievements in the area of teaching and learning technologies and how they can be used to improve the student experience and for her commitment to promoting and supporting issues of diversity within and beyond the workplace.
Since her arrival at Ohio State in 2006, Liv has led or participated in many inventive educational technology projects. She helped launch the OSU Digital Storytelling program for teaching faculty to share their stories and increase the visibility of their academic work. She founded Youth Video OUTreach, a project to teach nine gay and lesbian teens the skills to create a documentary about their lives, in partnership with Ohio State's Wexner Center for the Arts and with funding from the Ohio Arts Council. Under her direction, Ohio State's Digital First initiative, recognized for the development of digital content to transform teaching and learning, received the New Media Consortium's Center for Excellence Award in 2013 and Apple's Distinguished Program status in 2015.
Liv's energy, enthusiasm, and commitment to higher education resonate through every project in which she is involved. She led Ohio State's Innovate Conference, featuring best practices in digital pedagogies, and supported the launch of Ohio State's open content initiatives. She was coauthor of College Ready Ohio, a $13.5 million grant from the Ohio Department of Education in support of college readiness for high school students in Ohio, and Liv and her team launched Ohio State's Affordable Learning Exchange, a campus-wide partnership to reduce the cost of course materials with the commitment of saving $10 million by 2020. Liv's dynamic, collaborative leadership style and contributions were recognized by Ohio State when she received the university's Distinguished Staff Award in 2014.
Perhaps Liv's greatest impact on the higher education IT community comes from her personal commitment to her peers and to future IT leaders. She is a faculty member and co-director for the EDUCAUSE Learning Technologies Leadership Institute through 2019. An active contributor to EDUCAUSE and other professional societies, she has served as a reader for EDUCAUSE programs and has several presentations at EDUCAUSE conferences to her credit. She has presented widely on transformational leadership, learning technology, and community change at NMC events and at international conferences on LGBTQ human rights. She displays a selfless commitment to the success of others and is known as a generous collaborator, thoughtful listener, wise consultant, and consummate coach.
Liv's work at Ohio State is complemented by her service as a member of the Board of Directors and the Teaching and Learning Group of Unizin, a consortium of eleven universities working to improve the teaching and learning experience through digital environments. Liv also helped to shape what is now the Big Ten Academic Alliance Learning Technology Leaders (LTL). Through her leadership in the Alliance, she has created new partnerships to advance the topics of analytics, flexible learning spaces, and the pedagogies that support those spaces. An example of this is her team's proposal for a Faculty Content Camp, in which faculty create banks of open-assessment questions for use by others in their disciplines free of charge.
Liv's demonstrated track record of sustained service and increasing impact in higher education and her collaborative and innovative style of leadership are clear evidence of her position as a rising star in the profession.
This EDUCAUSE Award is sponsored by Moran Technology Consulting, Gold Partner.