2018 Rising Star Award Recipient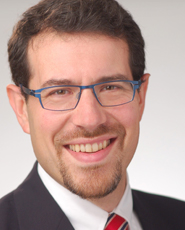 Damian M. Doyle
Assistant Vice President of Enterprise Infrastructure Services at the University of Maryland, Baltimore County
For demonstrating exemplary leadership in the implementation and deployment of information technology in support of the educational mission; for strong mentorship and promotion of diversity for those aspiring to the IT profession; for modeling collaborative partnerships within his institution and in the greater higher education community
The EDUCAUSE Rising Star Award for 2018 is presented to Damian M. Doyle, Assistant Vice President of Enterprise Infrastructure Services at the University of Maryland, Baltimore County (UMBC), to recognize his steady progression of achievement within UMBC and his expanding influence in the profession as a role model for collaborative partnerships to achieve success.
Damian's connection with UMBC began when he was a student and scholar in the university's Honors College. He was a student employee in the Division of Information Technology (DoIT) and joined the department full-time upon his graduation. Over time, he distinguished himself by taking on some of the university's most foundational and difficult technical assignments, beginning with supporting the NSF grant to implement the vBNS (very high speed Backbone Network Service, which later formed part of the backbone of Internet2) and continuing with his leadership on numerous other projects to establish or upgrade the technology to support the educational process and maintain network security on campus.
In recent years, Damian was promoted to director, senior director, and recently Assistant Vice President of Enterprise Infrastructure Services (EIS) and also assumed responsibility for support for the university's high-performance computing facility. In this role, he has led campus efforts to move to cloud services and has spearheaded efforts to prepare technical staff in their support of this move. More recently, Damian closely collaborated with staff involved in business services, enrollment management, and institutional research to help manage upgrades to Amazon Web Services involving the university's financial and analytical platforms.
On a campus with a strong tradition of staff participation in community-shared governance, Damian stands out as an especially insightful and effective leader. Serving as the first UMBC Professional Staff Senate president to come from DoIT, Damian has exhibited an inclusive and positive leadership style that has inspired trust and collaboration as the staff and campus community face complex challenges. He has made key contributions on several high-level committees and groups on campus, always demonstrating an outlook that is thoughtful, substantive, and collegial.
Damian's commitment to UMBC's ethos of "inclusive excellence" resonates through his work to expand opportunities for under-represented groups in all disciplines. Damian serves on the internal board of UMBC's Center for Women in Technology (CWIT) and has collaborated with CWIT to develop internship programs for women and minority student employees with DoIT. As part of this same effort, CWIT students gain valuable hands-on experience working in the university's cybersecurity, Unix infrastructure, and advanced networking teams—all to help prepare them for their future careers. Damian also volunteers extensively with Maryland's First Lego League, serving as the chair of the state planning committee and one of the head referees at competitions throughout the state.
Damian has participated in the EDUCAUSE Institute Management, Leadership, and Leading Change Programs, as well as contributed to the Cloud Computing Constituency Group and the ECAR Cloud Working Group. He has also presented in or moderated several sessions at EDUCAUSE conferences and has served as a reviewer for both the Connect and the Annual Conference Program Committees. He will be among the first faculty cohort in next year's EDUCAUSE Institute program for senior directors.
Damian's demonstrated technical and managerial aptitudes in an academic computing setting, as well as his commitment to the promotion of diversity and inclusion and his consummate focus on building relationships as a bridge to working collaboratively to leverage technology, make him worthy of recognition as an EDUCAUSE Rising Star—and as a leader who has much more to contribute to the higher education IT community.
This EDUCAUSE Award is sponsored by Moran Technology Consulting, Gold Partner.