2021 Rising Star Award Recipient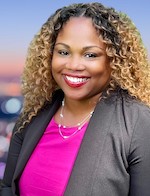 Tonya Bennett
Director of Educational Technology
University of Pennsylvania School of Veterinary Medicine
For providing leadership within the young professionals' community of EDUCAUSE and promoting opportunities and connections for others to excel and flourish; for being a tireless champion of community-building by leveraging creativity, technical skills, and infectious enthusiasm; for expanding the conversation and programming around diversity, equity, and inclusion
The 2021 EDUCAUSE Rising Star Award is presented to Tonya Bennett, Director of Educational Technology at the University of Pennsylvania School of Veterinary Medicine (Penn Vet), to recognize her record of service to EDUCAUSE and her exceptional leadership to engage young professionals in the IT profession.
Though Tonya is relatively new to the IT profession, her work in higher education has spanned more than a decade, with previous positions in academic services and student affairs at the University of Pennsylvania School of Dental Medicine, where her portfolio included working with administrative management systems to promote the school's innovation efforts. Pursuing her interest in working with technology, she began her official IT position at Penn Vet in 2018.
She adapted quickly to her new position—a role that involves the administration of a large suite of technology applications and instructional design to support the school's teaching and learning mission. In addition to developing training programs for faculty, staff, and students in the effective use of technology products and online exams, Tonya supports the school's Clinical Competency Outcomes Assessment Program and represents Penn Vet at various technology committees within the larger IT sphere at the university.
She attended her first EDUCAUSE annual conference in 2018, making genuine connections with others and seeking out opportunities to build a network and become more involved in her new professional community. Leveraging skills developed during her years working in student affairs, Tonya soon became an active leader in the association. In 2019, she was selected as a member of the EDUCAUSE Young Professionals Advisory Committee (YPAC), a group that provides the perspectives of emerging leaders to the EDUCAUSE president and executive team, helping EDUCAUSE to become a more inclusive and responsive association. Selected as chair of YPAC, Tonya has led this group in expanding its voice within the association and in building relationships within the larger community of young professionals in EDUCAUSE.
In 2019, Tonya also became an EDUCAUSE Ambassador, serving as a vital link between the association and Penn Vet and the greater University of Pennsylvania community by distributing information about EDUCAUSE programs and benefits. In a 2019 EDUCAUSE Review article, she shared her creative tips and methods for conducting outreach at a large institution. In addition, Tonya was a member of the EDUCAUSE 2020 Program Committee, and when conference planning suddenly required the transition to a fully virtual event, Tonya stepped up to the challenge to propose and co-host two nights of engaging and well-attended social events. In May 2020, Tonya displayed her uplifting and encouraging attitude in the co-authored EDUCAUSE Review article "Finding the Silver Lining: The Power of Positivity in Dark Times."
Tonya is deeply committed to promoting diversity, equity, and inclusion (DEI) throughout higher education. She is a co-founder of the Anti-Racism in Academia (ARiA) Learning Program and is very active in DEI initiatives at the University of Pennsylvania, including serving on Penn Vet's Diversity Council and the search committee that appointed Penn Vet's first Chief Diversity, Equity, and Inclusion Officer. In March 2020, she served as a small-group facilitator during Penn's annual symposium focused on Women in STEM to honor Women's History Month.
Tonya is a model rising star, consistently using creative thinking, innovative leadership, and big-hearted optimism to cultivate meaningful connections among young professionals and throughout the greater EDUCAUSE community. Tonya Bennett works tirelessly to make the IT profession more welcoming and inclusive, and her own example of growth and achievement is an inspiration to others.
This EDUCAUSE Award is sponsored by Moran Technology Consulting, Gold Partner.