2023 Rising Star Award Recipient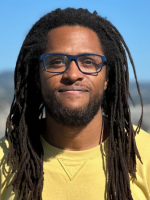 Wesley Johnson
Executive Director for IT Experience
UC Berkeley
For providing exemplary customer support throughout his career progression; for championing diversity, equity, and inclusion (DEI) in the higher education technology workplace; for inspiring others through his personal journey and his passion for giving back
The 2023 EDUCAUSE Rising Star Award is presented to Wesley Johnson for his collaborative and creative approach to problem-solving, stellar interpersonal and communication skills, dedication to personal and professional growth, and commitment to advancing DEI-focused hiring practices.
Wes began his higher education information technology career at the University of Georgia, where he worked for over eleven years. Between 2013 and 2020, he progressed from being an IT Project Manager to IT Manager, IT Senior Manager, and then IT Director of Client Services. Throughout his time at the University of Georgia, Wes approached IT services from an end-user's perspective—creating strong teams that delivered technologies and reliable customer service in ways that consistently delighted users.
Wes' first initiative as an IT Project Manager was implementing a university-wide Student Information System. His positive attitude, attention to detail, and high-quality work were key elements in successfully transitioning from homegrown systems that needed to be continually customized to a new SIS. The system was implemented on time and within budget, with only a few modest customizations. As one colleague involved in the project noted, "This is a tribute to Wes's ability to convene groups of individuals and work with them to improve how university business is performed."
Wes was vital in championing DEI-focused hiring practices, mentorship opportunities, and professional development programs at the University of Georgia. His advocacy helped move recruitment practices from being skill-focused to competency-focused, opening up hiring into IT roles via non-traditional paths that stress competencies beyond technical skills. Having benefited from the university's mentorship program himself, Wes mentored many early career staff who have subsequently experienced career advancement.
His people-focused vision and ability to develop and lead teams with trust and respect meant Wes was the perfect candidate to lead all end-user support at UC Berkeley as the Executive Director of Campus IT Experience. Since joining UC Berkeley in December 2021, Wes has reorganized his department to achieve improved service outcomes, overseeing an increase in resolution times at the service desk by 20 percent while keeping the customer satisfaction rate at 90 percent. Furthermore, he has worked with other service providers to develop a rapid response team to address campus Wi-Fi issues. Wes is a great communicator and collaborator. He thrives on working cross-functionally to better define services and improve customer experiences.
As a reflection of his exemplary work ethic and drive, Wes found time while progressing in his career to study at the University of North Georgia to earn an associate degree in sociology. He is currently pursuing a bachelor of science degree in cybersecurity, also at the University of North Georgia. Wes is a 2022–2023 Fellow of the Next Leaders Fellowship program. He and several of his cohort gave a presentation at the 2022 EDUCAUSE Annual Conference titled "What You Wish You Knew: Resiliency for BIPOC Leaders in Non-Diverse Spaces." He has continued his professional leadership development by enrolling in the MOR Leaders Program in 2023 and is committed to giving back to the higher education technology community. He recently joined the EDUCAUSE Young Professionals Advisory Committee and is co-host of the new EDUCAUSE Rising Voices podcast.
In addition to his impressive professional journey, Wes is an award-winning hip-hop producer and rapper (WesdaRuler) and a visible community leader, using his musical talents to advocate for greater social justice and change.
This EDUCAUSE Award is sponsored by Moran Technology Consulting, Gold Partner.