2022 Top 10 IT Issues
2022 Top 10 IT Issues: The Higher Education We Deserve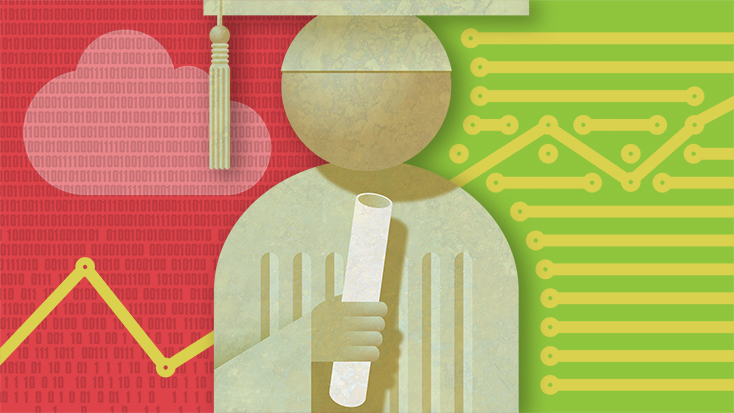 Almost two years into a global pandemic, it's clear the higher education we knew will never return and now we can focus on getting the higher education we deserve.
The Top 10 IT Issues describe the way technology is helping to create the higher education we deserve. They highlight the work institutions are doing to develop a shared transformational vision and strategy, redefine higher education's value proposition, and reshape institutional business models and culture to anticipate and serve the current and emergent needs of learners, communities, and employers.
See how technology can help your institution in 2022 and beyond.
---
Infographic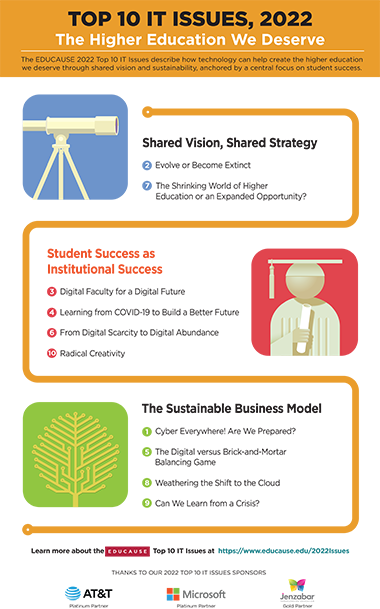 Shared Vision, Shared Strategy
To help create the higher education we deserve, institutional departments and divisions must have a shared vision and be willing and able to plan and act collaboratively.
Student Success as Institutional Success
The higher education we deserve is one where institutions embrace students as their primary customers. No longer can institutions dictate the terms and conditions of their students' educational experiences and outcomes.
The Sustainable Business Model
The higher education we deserve needs to be able to operate efficiently and manage risks effectively. It needs to be sustainable. Done well, technology can help organizations control and reduce costs, as well as scale beyond their size.
A Quick Visual Tour
View the video summary before taking a deeper dive into the other resources available.
---
Additional Resources
---
How the Top 10 IT Issues Are Selected
A list of seventeen issues—developed by an expert panel composed of IT and non-IT leaders, CIOs, and faculty members—is voted on by EDUCAUSE members in an annual survey. The resulting Top 10 IT Issues list is thus created by the community for the community, identifying what's important and where to focus.