EDUCAUSE Ambassador Toolkit
Helping Manage Your EDUCAUSE Membership
The EDUCAUSE Ambassador supports the Primary Representative in helping your organization get the most out of EDUCAUSE membership.
Ambassadors spend 2–4 hours a month helping inform colleagues about EDUCAUSE membership and getting them engaged with the resources beneficial to their roles.
Below we've put together the tools you need to get started with your role:
---
Your Role as EDUCAUSE Ambassador
Role

Definition of Role

Responsibilities

EDUCAUSE Ambassador

Individual designated to inform your organization of membership and share program/resource announcements

Inform organization of membership

Serve as a knowledge sharing liaison between EDUCAUSE and your organization
---
Your Benefits
Special Access and Support

Enhance your knowledge and make an impact on your campus by getting access to curated EDUCAUSE content that will help your organization address the challenges its facing.

Participate in periodic calls with our programs and services teams to get your questions answered and learn more about our offerings.

Grow your network by participating in a collaborative community of ambassadors from other organizations.

Get advance notice of new programs and services.
Connect with your dedicated EDUCAUSE Member Relations Specialist to help you navigate EDUCAUSE resources. Contact Dirk Van Rybroek for any questions you may have.

Recognition

Increase your interaction with colleagues across departments, and improve your visibility at your organization.
Earn an EDUCAUSE Volunteer Service microcredential to showcase your leadership skills and initiative to all levels at your organization.
Receive an EDUCAUSE Ambassador ribbon at EDUCAUSE events.

Add the following to your email signature to promote your role as a key liaison for EDUCAUSE resources and information:

EDUCAUSE Ambassador for [insert institution]
Did you know our organization is an EDUCAUSE member? Contact me for information on research, resources, and events you should know about.
Need to learn more about EDUCAUSE and your member benefits? Learn more.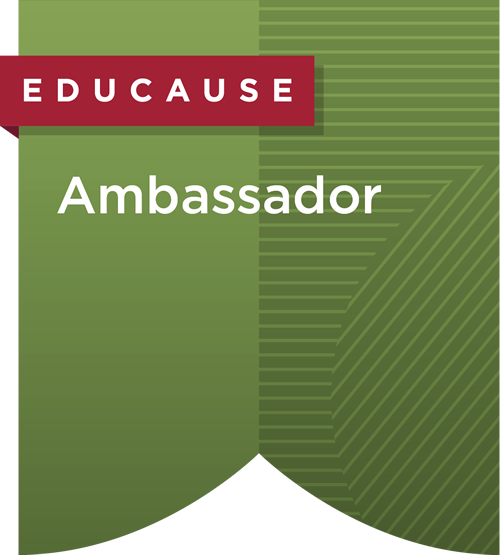 You can earn a Volunteer Service microcredential!
---
Five Quick Ways to Get Your Campus Engaged
---
Ways to Connect with Other EDUCAUSE Ambassadors
Join the EDUCAUSE Ambassadors Community Group

Collaborate with EDUCAUSE Ambassadors from other institutions.

Gather at Our Face-to-Face Events

Meet your community of EDUCAUSE Ambassadors at our face-to-face events throughout the year, like the EDUCAUSE Annual Conference. Contact Dirk Van Rybroek or reach out to your peers via the EDUCAUSE Ambassadors Community Group for details.

Browse the EDUCAUSE Ambassadors Community Roster

Discover and connect with your peers who are part of the program.
Please note—if you do not wish to be designated as EDUCAUSE Ambassador, you can contact our Membership Team at any time.
*The EDUCAUSE's trademarks, service marks, logos, trade dress and any other identifying mark or insignia (collectively "EDUCAUSE's Trademarks") should only be used in a manner that follows these incorporated guidelines to maintain brand integrity: (a) EDUCAUSE trademarks should not be used on a heavily textured, colored, or patterned background. (b) Keep the trademarks separate from other elements within the design space by maintaining a measure of white space around it, regardless of the medium. (c) EDUCAUSE should be written in all uppercase and, unless formally arranged in advance, any copy should avoid implying EDUCAUSE endorsement.