2016 Community Leadership Award Recipient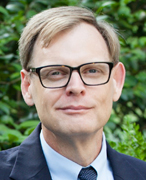 Timothy Chester
Vice President for Information Technology
University of Georgia
For his exemplary and wide-ranging sphere of influence in the higher education IT profession; for extraordinary thought leadership in IT service assessment, management, and delivery; for mentorship and advancing professional development within the higher education community 
The 2016 EDUCAUSE Community Leadership Award is given to Timothy Chester, vice president for information technology at the University of Georgia. Tim is an ongoing champion for IT organizations and how their leadership can inform and influence broader higher education strategy and policy. He is also an advocate for leadership strategy and organizational change, having elevated the CIO role to the VP level at both Pepperdine University and the University of Georgia (UGA). In his current position, Tim has focused on strategies to elevate the work of the Information Technology and Institutional Research organizations and their influence and impact at the university. Since his arrival at UGA in 2011, he has revamped both units to ensure that their day-to-day work is aligned with the university's strategic initiatives and he has facilitated systematic, stakeholder-focused improvements in the delivery of IT services and data reporting and analytics.
Tim's career trajectory began at Texas A&M University at the entry level of the IT organization, and within six years he was asked to assume the role of CIO in charge of establishing a broad range of services for a new college of engineering at the university's Qatar branch campus. Following this, Tim held leadership positions at Pepperdine University, where he led the development of the university's strategic plan and regional reaccreditation process and also transformed the school's IT operation into an effective service model encompassing strategic areas such as analytics, institutional research, and teaching and learning. The Pepperdine reorganization was recognized with a 2011 Campus Technology Innovator Award for Leadership, Governance, and Policy.
A hallmark of Tim's career is his interest in studying the barriers limiting effective IT service delivery. For nearly a decade in his work as leader of the TechQual+ project, Tim has advised others on how they can assess and improve IT services at their institutions. TechQual+ is a simple yet comprehensive survey that assesses what students, faculty, and staff want from their IT organizations. To date more than 100 institutions have used the survey as a way to develop sound planning, continuous improvement, and assessment practices. Not only has Tim been the guiding force for this innovative assessment tool, he has also helped others with processes to implement the instrument and then guide organizational change.
Tim has also strengthened the entire higher education community through his work as an advocate for professional development and as a generous and insightful mentor to others. He has guided and supported EDUCAUSE professional development as a program committee member and presenter, and he is regarded as a thoughtful, provocative, and innovative speaker. As director of the Hawkins Leadership Roundtable, he has brought incredible energy and excitement to the program. He has written on a variety of subjects of interest to the community in numerous EDUCAUSE and ECAR publications and elsewhere. And he engages the larger higher education community by sharing his perspective on Twitter and on his EDUCAUSE and personal blogs under his well-known trademark handle "accidentalCIO."
His outstanding qualities as a thought leader, innovator, role model, and mentor have distinguished Tim, who is most deserving of the 2016 Community Leadership Award.

The EDUCAUSE Community Leadership Award recipient receives a $3,000 contribution to the fund of their choice. A contribution in Tim's name will be made to the Department of Management and Information Systems at the University of Georgia.
This EDUCAUSE Award is sponsored by Moran Technology Consulting, Gold Partner.