2021 Community Leadership Award Recipient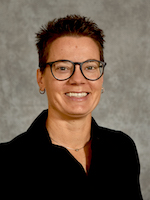 Marcia L. Dority Baker
Assistant Director, Academic Technologies
University of Nebraska–Lincoln
For showing extraordinary leadership in community-building, mentorship, and encouragement of others in the profession; for advancing professional development opportunities for women, young professionals, and others within the IT community; for cultivating workplace environments of inclusiveness, collaboration, and collective success
The 2021 EDUCAUSE Community Leadership Award is presented to Marcia L. Dority Baker, Assistant Director, Academic Technologies, at the University of Nebraska–Lincoln (UNL), to recognize her ongoing and widespread leadership in helping to make the higher education IT community more connected, inclusive, and successful.
Marcia's influence in the community has been evident from the outset of her career. With a background in library and information science and museum studies, Marcia demonstrated her natural skills for educational programming and outreach early in her career. Joining the faculty and staff of the Schmid Law Library, University of Nebraska College of Law, in 2004, she expanded her experience in working with classroom technologies and conducting outreach with stakeholder communities. In 2016, she started her current position with the UNL's Office of Information Technology Services (ITS) and since has taken on a larger role that includes responsibility for strategic planning of academic technologies at UNL and also at the University of Nebraska system and for leading the work of several key teams within ITS.
Marcia leverages both her energy and her communications skills to create environments of trust and collaboration and encourage innovation. During her 17 years at UNL, she has built strategic partnerships across the campus and throughout the University of Nebraska system and has maintained close ties to campus stakeholders, allowing her teams to effectively implement an array of technologies that support the teaching and learning mission and ensure student success. She has also been a champion of AV design standards for the university, and through her ability to get buy-in from key stakeholder groups, this effort has resulted in cost efficiencies and more cohesive and consistent services within the entire system.
Reflecting her deep-seated commitment to the advancement of women in the IT profession, Marcia has been co-chair of the University of Nebraska Women Advance IT Conference since 2016. As a testament to Marcia's leadership and impact, this event began as an afternoon workshop and has grown into a successful two-day national conference featuring essential programming on how to create more equitable and inclusive workplaces and grow future leaders at organizations, companies, and campuses. Since 2019, EDUCAUSE has been a sponsoring partner for the conference, which tends to draw about 60 percent women and 40 percent men in attendance.
Marcia has also distinguished herself through her service beyond her institution, including considerable participation in EDUCAUSE activities. Since 2019, she has served as chair of the Diversity, Equity, and Inclusion (DEI) Advisory Committee, which has a significant role in support of this strategic priority for EDUCAUSE. As co-chair of the Women in IT Community Group, she leads the bi-monthly meetings of this active group. She has presented widely on how to encourage women in the IT profession and to create inclusive teams and workplace environments, and she is an enthusiastic mentor and ally to young professionals and others interested in exploring ways to make higher education a better place. As a supporter of the Anti-Racism in Academia (ARiA) Program, she was a facilitator for four small-group conversations on the topics of reaching out, listening, learning, and acting. Beyond EDUCAUSE, Marcia co-founded and was co-chair of the Big Ten Academic Alliance (BTAA) Women in Technology Peer Group and was co-chair of the Unizin Teaching & Learning Liaison Group from 2018 to 2020. As a board member for Girls Code Lincoln since 2020, she is helping young girls pursue their interests in technology and leadership.
Driven by a sense of making the community more connected, engaged, and innovative, Marcia brings keen intelligence, an expansive vision, and can-do enthusiasm to any endeavor she undertakes. Through her unwavering commitment to encouraging others and creating opportunities for connections and collaboration, Marcia Dority Baker exemplifies the EDUCAUSE motto of "uncommon thinking for the common good" and has strengthened our community for the betterment of all.
This EDUCAUSE Award is sponsored by Moran Technology Consulting, Gold Partner.