2020 Leadership Award Recipient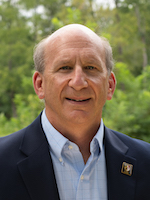 Jack Suess
For modeling selfless leadership and commitment to innovation and creative problem-solving; for advancing research and scholarship in the areas of advanced networks, cybersecurity, identity management, analytics, and technology standards for learning technologies; for creating a culture of collaboration and opportunity among faculty, staff, students, and other stakeholders in the higher education IT community; for demonstrating commitment to diversity, equity, and inclusion
The 2020 EDUCAUSE Leadership Award recognizes John "Jack" Suess, Vice President of Information Technology and Chief Information Officer at the University of Maryland Baltimore County (UMBC), for his servant leadership at UMBC, trailblazing contributions to IT research, and the enduring impact he has had on the higher education IT community.
Jack has served the UMBC community his entire career, starting in 1978 as a student employee in the university's computer center and becoming a staff member in Academic Computing in 1981. In 1997, he was tapped to lead the UMBC central IT unit. In 2000, he was named CIO, and in 2005 he was appointed Vice President and CIO. Jack has led or been involved in almost every major UMBC technology initiative that has supported advanced research, teaching and learning, administrative systems, or technology furthering student success. Along the way, he has held roles as a systems programmer, project manager, research collaborator, and part-time instructor. Throughout his career at UMBC, Jack has leveraged technology and analytics to expand the use of IT services and technology in teaching, learning, administration, and academic research.
His national contributions include the field of networking: in 1986 he led the effort to connect UMBC to the internet as part of the National Science Foundation Network (NSFNET), and in 1998 he was Principal Investigator for UMBC's connection to the NSF's very-high-performance Backbone Network Service (vBNS). In the field of identity management, Jack led UMBC's participation as an Internet2 middleware early adopter in 2000, and he served as the higher education representative on the NIST National Strategy for Trusted Identities in Cyberspace (NSTIC) from 2012 to 2017. In recent years, he has worked to expand the university's cyberinfrastructure in high-performance computing, storage, and visualization, serving as Principal Investigator on UMBC's NSF Cyberinfrastructure award in 2014, and has been one of the leaders supporting national efforts in advancing the use of learning analytics for student success.
Jack is a strong collaborator who works quietly behind the scenes to build consensus. Across every project, initiative, and technology implementation, his overarching concern is the impact of technology on faculty, staff, and students. In recognition of his strong commitment to diversity, equity, and inclusion (DEI), Jack was appointed to the inaugural board of the Center for Women in Technology at UMBC in 1998. More recently, Jack and his team have become a model in diversifying the student workforce at UMBC. Jack is the author or co-author of two book chapters and numerous journal and magazine articles, blog posts, and other publications. He has delivered more than seventy presentations and webinars on topics including teaching and learning, student success, MOOCs, data governance, identity management, analytics, cloud services, IT culture, and IT leadership. Jack has conducted research on fiber-optic networks, federated virtual desktops, data-intensive cyberinfrastructure, and network infrastructures supporting minority achievement in STEM. He received more than $1.7 million in contracts, grants, and sponsored research funding. He was the principal investigator (PI) on a 1997 National Science Foundation (NSF) grant to develop vBNS networking at UMBC and a 2014 NSF cyberinfrastructure grant to upgrade the network on his campus to 100 Gbits. He was co-PI on an NSF grant to increase the number of women working in information technology through improved access to global resources and a state grant for broadening the IT skills of college students across all majors.
Jack's service to EDUCAUSE spans twenty years. Among his many other contributions to the organization, Jack has served on the EDUCAUSE Board of Directors (as a member, vice-chair, and chair), the Higher Education Information Security Council (HEISC) (as a member and chair), the Network Policy Council, the Seminars on Academic Computing (SAC) Committee and SAC Board of Directors, the IT Issues Panel, the ECAR Working Groups Advisory Committee, and the EDUCAUSE Annual Meeting Program Committee (as a member and chair). He is currently a member of the EDUCAUSE Policy Advisory Committee and the Analytics Services Design Panel (ASDP) and is a frequent contributor to EDUCAUSE Review.
Nationally, Jack has served, or is presently serving, on the boards of Internet2, IMS Global, REN-ISAC, and the NIST National Strategy for Trusted Identities in Cyberspace. In 2004, Jack was selected for the UMBC Presidential Leadership Award, the highest recognition the university bestows on staff members. He was named UMBC Alumni Volunteer of the Year in 2000 and received the Internet2 Presidential Leadership Award in 2011.
Jack stands out not only because of the work he has done but also because of his investment in others. He is a thoughtful and honest mentor, an inquisitive researcher, and a groundbreaking innovator. He has dedicated his career to seeking the best path forward for his staff, his university, and the broader higher education IT community. Jack Suess exemplifies what it means to be an inspirational leader in higher education.
This EDUCAUSE Award is sponsored by Moran Technology Consulting, Gold Partner.