2021 Leadership Award Recipient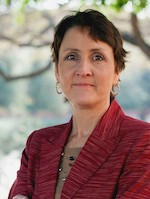 Michele Norin
Senior Vice President and Chief Information Officer
Rutgers, The State University of New Jersey
For demonstrating visionary leadership and effectiveness in leading IT at institutional and organizational levels; for effectively advocating for the strategic value of IT to higher education and fostering collaborations that encourage others to think critically about IT services and support; for serving as a role model and exemplar to others in the IT profession
The 2021 EDUCAUSE Leadership Award recognizes Michele Norin, Senior Vice President and Chief Information Officer at Rutgers, The State University of New Jersey, for her steadfast and visionary leadership of high-performing and exemplary higher education institutions and for being a role model of wisdom, professionalism, and integrity to others in the IT profession.
Throughout her career, Michele has demonstrated a remarkable ability for creating a shared vision for the value of IT to the institutional mission and for bringing others together in an environment of collegiality and trust to achieve goals. At the University of Arizona, where she began as a systems analyst in 1989, Michele held roles of steadily increasing responsibility and with greater opportunities for organizational leadership involving a variety of constituencies and stakeholders. In 2007, she was named Vice President for IT and CIO and led several major strategic and cutting-edge initiatives, including a multi-year enterprise systems replacement project that touched every aspect of the institution's infrastructure and operations. To recognize her impact and accomplishments at the university, the Arizona Technology Council named her Education CIO of the Year in 2011. In 2015, she was recognized on the annual Computerworld Premier 100 IT Leaders list.
Michele has continued this record of stellar performance and leadership since she joined Rutgers University in 2015. During this time, she has expertly marshaled support for optimizing IT operations and services at Rutgers, including the major initiative of developing a comprehensive network infrastructure strategic plan. She also worked with campus leaders and deans to address resource allocation during a period when the university was incorporating other institutions into its ecosystem. For this initiative, Michele organized a first-ever retreat for all deans throughout the campus to promote university-wide thinking and planning—an event that broke down barriers and promoted a better understanding of the shared and varying missions and needs among the participants' areas. As part of implementing these major initiatives at Rutgers, Michele spearheaded an exhaustive inventory of IT activity at every level to identify redundancies, gaps, security risks, staffing competencies, and opportunities for improved collaboration. Michele and her IT leads then worked closely with the university's finance team to develop an innovative financing plan using a combination of methods over a multiyear period to sustain the university's network indefinitely while minimizing deferred maintenance. For her significant role in leading Rutgers through these improvements, Michele was named New Jersey Tech Council CIO of the Year in 2018.
Michele's commitment to and influence within EDUCAUSE and its predecessor organization, CAUSE, are also significant. In addition to serving on numerous advisory committees and working groups, she has twice been a member of the annual conference program committee, serving as chair in 2017. In 2016, she was elected to the EDUCAUSE Board of Directors, eventually becoming board chair in 2020 and helping to lead the association during the challenging pandemic year. She is currently co-lead of the CIO Community Group and co-chair of the group's steering committee. She is also a member of the EDUCAUSE Core Data Service M1 Financials Working Group and the ECAR Working Group Strategies Committee. As a popular and sought-after speaker, she has presented at EDUCAUSE conferences on a range of topics including strategic planning, operational governance and improvement, cybersecurity issues, and funding models.
Beyond EDUCAUSE, Michele contributes her experience to the Research University CIO Conclave (RUCC). This informal group of about 50 CIOs from research-intensive universities meets regularly to discuss various policy and strategy-related issues of importance to IT leaders and higher education. She also serves on the National Security Higher Education Advisory Board Cyber Subcommittee and was a member of the Internet2 InCommon Steering Committee from 2015 to 2017.
As a tireless advocate for the value of information technology in higher education, Michele leads with a strategic view and sets the bar for exemplary service. With her deep roots in higher education and her demonstrated abilities in working through challenges, Michele Norin has significantly influenced not only the institutions she has served directly but the broader higher education IT community.
This EDUCAUSE Award is sponsored by Moran Technology Consulting, Gold Partner.