2022 Leadership Award Recipient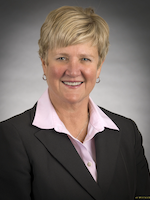 Sue B. Workman
Former Vice President for University Technology and CIO
Case Western Reserve University
For modeling exemplary strategic leadership and effectiveness in the governance of technology organizations; for cultivating work environments that promote continuous professional growth and success; for being a role model for those who aspire to become future leaders in the IT profession
The 2022 EDUCAUSE Leadership Award recognizes Sue B. Workman, former Vice President for University Technology and CIO at Case Western Reserve University, for leading with creativity, vision, and humanity and for fostering open and collaborative environments that help individuals and institutions thrive and succeed.
Beginning her career with 10 years in the corporate sector, Sue joined Indiana University (IU) in 1991 as a Senior Department Computing Advisor, bringing to the position her unique insights on innovative business practices and team building, along with sharply honed skills in strategic planning. Over two decades at IU, during a time of unprecedented industry growth and change, she maintained a trajectory of promotions to positions of greater responsibility, advancing to the role of Associate Vice President for Client Services and Support. In that role, Sue became nationally recognized for leading the implementation of several innovative initiatives to build IT services and operations and enhance the skills and expertise of staff. Among her many accomplishments at IU, Sue negotiated the university's groundbreaking agreement with Adobe, the first enterprise license agreement of its kind, and she led several pioneering initiatives, including the award-winning IU Knowledge Base and IU AnyWARE, both before their time in the technology space. In 2014, she was awarded the Indiana University Presidential Medal for her distinguished service, and the same year she received Women and HiTech's Leading Light Risk Taker Award.
Joining Case Western Reserve University (CWRU) in 2014, Sue mobilized an extraordinary change process to centralize the university's IT services and community, transforming a once very distributed culture into one unified organization called UTech. Characteristically leading with vision and compassion, Sue cultivated an environment of trust and shared purpose, and the centralization process was completed early, despite some initial resistance to the idea. In a similar broad-based project, Sue also forged and led the implementation of UTech's strategic plan, "[Re]Imagining IT," using a novel approach that involved the full campus community and folded the centralization effort into the heart of the plan. The completed strategic plan clearly reflected the priorities of all constituencies in a coherent and coordinated way and was welcomed with enthusiasm. In addition to having responsibility for all IT operations, Sue's portfolio also included online learning, involving curriculum development and delivery methods, and she was highly engaged in UTech's monumental response, during the COVID‐19 pandemic, to provide the enhanced technology support needed to carry the university's operations through the emergency. She also played an instrumental role in an innovative collaboration between CWRU and Cleveland Clinic with Microsoft to develop the first educational application for HoloLens, the company's mixed-reality device. She then continued to partner with faculty involved in developing HoloLens applications for other disciplines such as physics, genetics, art, chemistry, and engineering, to help advance and ensure technical support for their efforts.
Along with keen strategic vision, a hallmark of Sue's leadership style is her ability to build relationships and create a collegial, "people-centric" environment within an organization. Committed to cultivating others and believing that true leadership comes in many forms, Sue is a strong proponent of continuous growth opportunities for staff. At CWRU she established a leadership training program for the entire IT division, including immersive courses that significantly raised the skill sets of staff at every level. Sue demonstrated her commitment to this area through her personal mentoring of her leadership team, and she devotes significant time providing guidance to other aspiring leaders—especially women leaders—in the IT profession.
As a leading voice in technology issues in higher education, Sue has brought wisdom and advocacy to other nonprofit groups and boards, including the Northeast Ohio Cybersecurity Consortium, the Ohio Board of Regents CIO Advisory Board, REN-ISAC, the Greater Cleveland Partnership, and DigitalC. She also serves as a corporate board member for First Mutual Holding Company. Within EDUCAUSE, her participation on EDUCAUSE committees includes chairing the Nominations and Leadership Development Committee and serving on the Core Data Survey Planning Committee, the IT Issues Panel, and the 2012 Annual Conference Program Committee. She was elected to the EDUCAUSE Board of Directors, serving from 2017 to 2020, with terms as vice chair and chair. She has produced or collaborated on over 50 EDUCAUSE publications and presentations, on topics such as gender equity in technology and women in the IT profession.
Combining a deep sense of commitment and vision with a unique ability to engage and cultivate the leadership potential of others, Sue Workman has set a standard for helping IT organizations and her fellow professionals thrive and succeed. Her dedication to the greater good has had a significant impact in the higher education IT arena.
This EDUCAUSE Award is sponsored by Moran Technology Consulting, Gold Partner.