2023 Leadership Award Recipient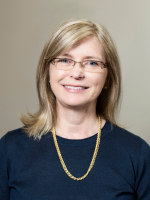 Cynthia Golden
Senior Advisor, Former Associate Provost and Executive Director, University Center for Teaching and Learning
University of Pittsburgh
For leading through transformative change; for leveraging technology solutions to support excellence in teaching, learning, and research; for cultivating collaborative, cross-functioning teams; for supporting the leadership development of coworkers and colleagues
The 2023 EDUCAUSE Leadership Award recognizes Cynthia Golden for her extraordinary stewardship in the face of unprecedented challenges, her exemplary leadership in the use of educational technology, her deep understanding of the full range of issues in higher education IT management, and her extensive record of service to the higher education technology community.
Cynthia served as the Associate Provost and Executive Director at the University Center for Teaching and Learning (UCTL) at the University of Pittsburgh for more than a decade, and also as a Center Associate of the Learning Research and Development Center at Pitt. Other leaders and faculty at the university have recognized Cynthia's contributions repeatedly, citing her leadership as pivotal to improving teaching effectiveness. She was at the forefront of the university's response to the coronavirus pandemic, leading the campus community through a rapid shift to remote teaching and learning in parallel with an already-in-progress learning management system (LMS) transition. While adapting to the pandemic is just one example of Cynthia's ability to successfully lead through change, the level of leadership required to facilitate such an expeditious response illustrates the quality of her cumulative strategic leadership in the years leading up to that emergency.
Cynthia has created an inspiring legacy at UCTL. Under her leadership, the center was rebranded, reorganized, and re-launched. Among her many notable accomplishments, Cynthia led efforts to create the Center for Diversity in the Curriculum, The Diversity Institute for Faculty Development, and the Provost's Award for Diversity in the Curriculum. She also played a central role in creating the first massive open online courses at the University of Pittsburgh. Cynthia has a leader's focus, ensuring that improving learning remains a core pursuit of the university.
EDUCAUSE is fortunate to have benefited directly from Cynthia's leadership and expertise. She served as the Executive Director of Professional Development at EDUCAUSE from 2001 to 2003 and as the association's Vice President from 2004 to 2009. While at EDUCAUSE, Cynthia worked across the IT disciplines of security, enterprise technology, network infrastructure, and teaching and learning to create meaningful member-driven learning experiences. She developed, designed, and implemented the Workshop for New IT Managers, the Learning Technologies Leadership Program, and the Enterprise Technologies Conference, to name just a few. Cynthia has always been a vanguard of technological change, initiating the association's first online programs and seminars and leading the first projects to create podcasts, develop online publications, and use web 2.0 tools. She continues her service to EDUCAUSE today as co-host of the Integrative CIO podcast.
Cynthia's leadership skills were apparent even at early points in her career. While at the Massachusetts Institute of Technology, she led a university-wide effort to develop and implement an administrative computing architecture. At Duquesne University, Cynthia implemented the institution's first LMS, launched its first online degree programs, and introduced a wireless networking infrastructure. At Carnegie Mellon University—where she started her career—she pioneered relational databases for business processes.
Cynthia's dedication to developing the next generation of higher education technology leaders is evidenced by her many leadership-focused presentations at EDUCAUSE conferences and other events, including, among others, "What or Who: The Integrative CIO," "Leadership Transitions," "Leadership Is Everyone's Business," and "Women, Technology, and Leadership." She has written numerous articles and monographs and is the author and editor of the book Cultivating Careers: Professional Development for Campus IT. Throughout her career, she has served as a member of many professional committees and sat on the Board of Directors of many education- and technology-related organizations, including the New Media Consortium, the IMS Global Learning Consortium, the Seminars on Academic Computing, the Northeast Regional Computing Consortium, CUMREC, and CAUSE.
Cynthia is a selfless leader who generously offers her time to help coworkers, junior colleagues, and other leaders solve challenging issues. Her generosity of spirit extends to her local community. Among other community activities, Cynthia has mentored refugees in Pittsburgh, served on boards of early childhood education centers. She has also contributed to the United Way Women's Leadership Council for over a decade. Unsurprisingly, she enjoys unparalleled professional recognition, respect, and esteem. International visitors to the University of Pittsburgh often ask to spend time with and learn from Cynthia and the teams she has led. Her pioneering, steady, and strategic leadership will have a lasting impact on the higher education technology community.
This EDUCAUSE Award is sponsored by Moran Technology Consulting, Gold Partner.