Five-Year Strategic Priorities
The EDUCAUSE strategic priorities for 2017–2021 were unanimously approved by the board of directors at the October 2016 board meeting.
These priorities were developed over the course of 2016 from listening to our members and collecting a broad array of insights and advice from peers, community leaders, stakeholders, and other experts to ensure a thriving future for EDUCAUSE.
We held 15 focus groups with 140 members and 15 interviews with influencers from within our community and the higher education ecosystem. The thoughtful advice from these sessions clarified EDUCAUSE's value, predicted member needs in five years, and provided recommendations about strategic priorities for the association.
We also commissioned a member survey that received approximately 1600 responses and provided a wealth of detailed information about our membership model and how our members perceive specific EDUCAUSE programs and services.
The EDUCAUSE board worked to develop an ambitious but achievable five-year strategic plan for EDUCAUSE.
Thank you to the members who provided input. Planning is a form of listening, and we hope you see evidence in the new plan that we heard your needs.
EDUCAUSE 2017–2021 Strategic Priorities
View the 2017–2021 Strategic Priorities and Goals >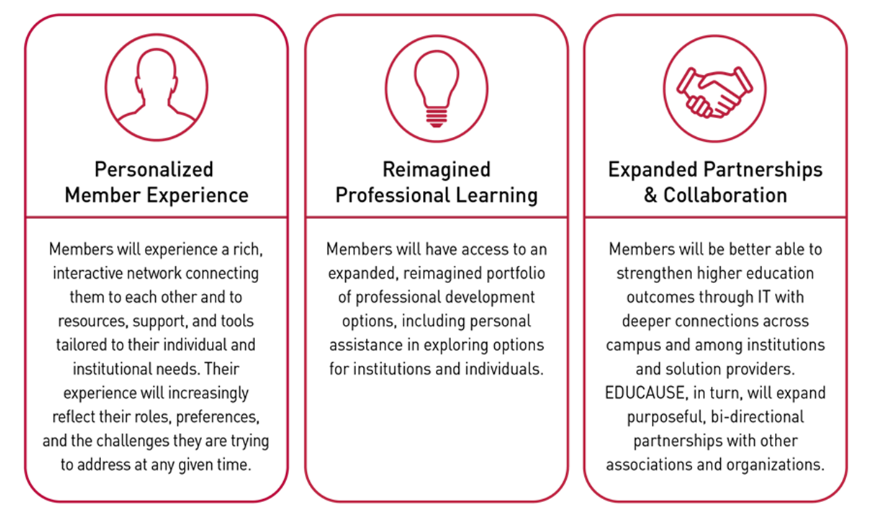 Another major component of our priorities is a new membership model, which launched July 2017, to enable greater access to EDUCAUSE resources. The model change and modernization included eliminating separate subscriptions for the EDUCAUSE Learning Initiative (ELI) and EDUCAUSE Center for Analysis and Research (ECAR) to make these valuable resources available under a single EDUCAUSE membership.

Our 2017–2021 priorities are also covered in detail in this presentation, a recording of a town hall session held in September 2016, and the video, below.