Mentoring Circles
About Mentoring Circles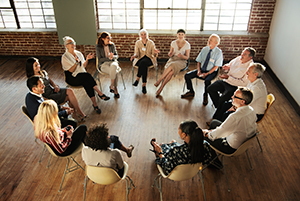 Mentoring Circles, a member-only benefit, are community-led opportunities to engage, get support, and build network connections on specific topics. The circles are led by a peer colleague on a select topic to provide leadership and guidance for participants to collaborate and share best practices. Circles may run indefinitely, provided there is engagement within the circle.
The mentoring circles have two roles available for engagement:
Circle Lead: A circle lead supports engagement and provides guidance that is critical to the successful facilitation of discussion. They are the key to making connections between the participants and the circle topic. A lead has the unique opportunity to learn and grow, while supporting their peers. A circle lead is needed for the circle to remain open and available for engagement.
Circle Participant: Participants in the mentoring circle will have the opportunity to extend their networks through connection with a small cohort of peers around specific topic(s) of interest. It's a great opportunity to connect, engage, and grow together. For maximum participation and engagement, it's suggested to have no more than 25 individuals in a circle.

Mentoring circles are a great way for members to connect and engage in topic-based discussions as well as across multiple community groups and support ongoing discussion. Members are able to join any circle based on their interest and regardless of their area of expertise.

Mentoring Circle Dates

Rolling enrollment


Duration

Rolling basis


Time Commitment

30 minutes per week


Who Should Join?

EDUCAUSE Members looking to engage, learn, and grow.

Delivery

Asynchronous discussions
Synchronous live option

Price

Free for EDUCAUSE Members
Getting Started
Before joining the program, add @chronus.com to your email program's allow list to ensure Mentoring Program emails go to your inbox and not to junk, clutter or promotions folders. Directions for Outlook and Gmail can be found here or watch this video.
Engaging in the Circle:
Circle Leads help to facilitate the communication and circle engagement (and can switch circle ownership).
Engagement occurs via the discussion board. Circle Leads can also elect to schedule live meetings.
Participants create personal and group goals for the circle to help track progress.
If there is no activity for 30 days, the circle will automatically close.
Frequently Asked Questions
Participants have the opportunity to join a maximum of three circles, as either a lead or a participant. The goal is engaged discussion and sharing, so we want to be sure not to dilute the experience.
Circles will remain active provided there is participation. Circles will automatically close if there is no activity in 30 days.
Only if you are a member of the circle. There isn't a way in the platform to tag specific circles or to monitor topics.
Mentoring will be free to EDUCAUSE members in 2021. Non-member participation is only available to EDUCAUSE Institute participants, for a limited time, and to specially-funded programs.
The mentoring platform is SSO enabled. It will populate information from the EDUCAUSE profile. It's important for this information to be correct upon signing up, or updates to the profile will be needed in both the Chronus platform and also in the EDUCAUSE profile. For first time participants without an EDUCAUSE profile, there may be a 24-hour lag for the system to sync.
There is no limit on the number of individuals that can participate in mentoring from a member organization.