One-to-One and Just-in-Time Mentoring
About One-One Mentoring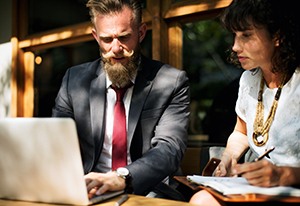 This member-only program will help you find and connect with an appropriate mentor to provide guidance, support, and growth in a safe environment. The mentoring system uses an algorithm-based approach, using areas of learning and interests from the profile to provide connection suggestions.
We offer a 3-month mentoring engagement and also the ability to connect for one meeting for just-in-time mentoring. You will have the opportunity to select the relationship that works best for your needs.
Engaging in a 1:1 mentoring relationship can be done in three steps:
Create a profile sharing your learning interests.
Connect with your preferred mentor match.
Collaboratively create your connection plan goals.
You also have the ability to connect with a mentor as needed, or just-in-time, using the same process.
The more complete your profile, the better the match with a mentor.
1:1 Mentoring Dates

Rolling enrollment


Duration

3 months


Time Commitment

At least 1 hour per month


Who Should Join?

EDUCAUSE Members looking to engage, learn, and grow.

Delivery

Asynchronous messaging
Synchronous meetings

Price

Free for EDUCAUSE Members
Frequently Asked Questions
A mentor or mentee may have a maximum of two connections at one time.
A 1:1 mentoring relationship will last up to three months with the option to reconnect.
Flash mentoring is a just-in-time engagement and ends once the one-time meeting has concluded.
Mentoring will be free to EDUCAUSE members in 2021. Non-member participation is only available to EDUCAUSE Institute participants, for a limited time, and to specially-funded programs.
The mentoring platform is SSO enabled. It will populate information from the EDUCAUSE profile. It's important for this information to be correct upon signing up, or updates to the profile will be needed in both the Chronus platform and also in the EDUCAUSE profile. For first time participants without an EDUCAUSE profile, there may be a 24-hour lag for the system to sync.
There is no limit on the number of individuals that can participate in mentoring from a member organization.