iPASS Grant Challenge
Integrated Planning and Advising for Student Success. Designing new approaches, navigating transformative change, pursuing better results for students.
iPASS
Integrated Planning and Advising for Student Success involves new approaches to advising and degree planning services for college students along with new technologies. It includes education planning, counseling and coaching, and risk targeting and intervention to help students complete their degree.
The Need
Public higher education is facing current demands to decrease costs while delivering high-quality education to an expanded and more diverse student body. It must embrace new models for monitoring and improving student performance to meet these demands. When fully realized, iPASS encompasses an institution-wide commitment to student success and degree completion accompanied by coordinated business processes to inform and prompt advising activities.
The power of iPASS lies in its ability to spur transformative change in how students experience college, rather than merely promote efficiency. Research shows that small changes are unlikely to substantially improve student experiences for enough students to move the needle on completion rates. Instead, institution-wide change is needed that trickles down to the students themselves.
The Grant Challenge
On September 8, 2015, EDUCAUSE announced the results of its iPASS grant competition, which awarded grants of up to $225,000 to 26 institutions from across the country. Created with funding from the Bill & Melinda Gates Foundation and the Leona M. and Harry B. Helmsley Charitable Trust, the initiative aims to help two- and four-year higher education institutions launch comprehensive iPASS technologies by 2018.
All applicants were asked to propose projects addressing the following three broad, student-facing functions:
Education planning: Guiding students to select courses and programs of study that are most efficient and relevant to completing a degree or credential that meets their academic goals.
Counseling and coaching: Connecting students to on- and off-campus resources and allowing students and advisors to monitor progress, provide ongoing feedback, and create personalized action plans for educational success.
Risk targeting and intervention: Affording faculty, advisors, students, and administrators the ability to better predict course failure and program stop-out in order to support timely and effective interventions.
Implementation Services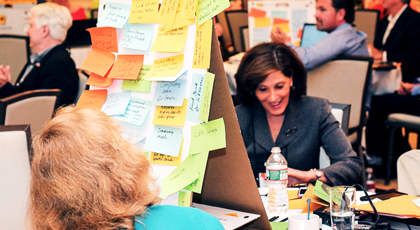 EDUCAUSE and partner Achieving the Dream (AtD) are jointly providing implementation services to iPASS grant recipients. The goal of implementation services is to support the efforts of grantees as they transform advising practices, student support services, and systems in support of student success.
Building "change leadership capacity" has been identified as a critical part of this work. All grantees receive change leadership training developed by Kotter International and provided by EDUCAUSE and AtD staff.
In addition, EDUCAUSE and AtD provide guidance, exposure to tools and the latest research, technical assistance, project oversight, and review services. A series of workshops, webinars, and convenings provide grant recipients with valuable networking opportunities to collaborate, share, explore, and learn together.
Progress Update, November 2017
iPASS grantees shared outcomes at the EDUCAUSE 2017 conference. View the posters for details about each institution's iPASS updates.
Progress Update, February 2017
iPASS grant recipients completed an initial year of planning that included development work to launch their technology-enabled advising redesigns. The project teams are now in a period of refinement and expansion of the work. To share their progress and early results, each institution prepared a poster for a convening of iPASS grantees held in February 2017. View the posters for details about each institution's iPASS efforts.
More Information
Click on the tabs above for more information about iPASS grant projects and related resources or explore these additional resources:
iPASS Partners